Trading Cards Printing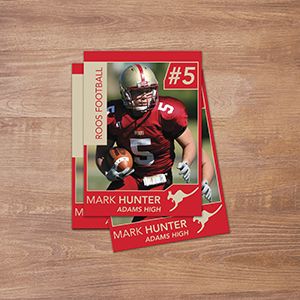 Fun for student athletes
Trading cards are perfect for any sport--basketball, soccer, football, swimming, golf, racing, etc.--and they're no longer only for the professionals. Spectrum can design and print trading cards for your club, youth sports team, or city league team, and help you further personalize them with the addition of a Quick Response (QR) code that goes directly to your organization's website. We can turn your photos into personalized, collectible trading cards or create a deck of cards for your own card game. Teachers can use images of historical figures, geometric shapes and more to use trading cards as study aides. Your imagination is the limit.
Save a treasured moment
Upload student art or photos taken with a digital camera to our website and leave the rest up to us. Trading cards are typically 2 ½" x 3 ½", but other sizes are also available. Design trading cards with square corners or opt for customized round corners, and printed in full-color with UV coating on the front and black and white on the back.