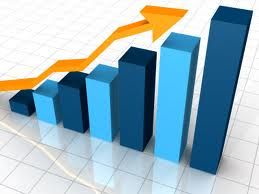 Do you want to grow your business?  We already know the answer to that question and we can help you make it happen.  We have partnered with thousands of clients across dozens of industries to help them successfully grow their businesses, and along the way we have learned what works in almost every situation. When you work with Spectrum Printing Company, you gain access to our wealth of experience. While it may not seem obvious coming from a printer, we are actually in the business of growing your business.
Depending on the industry you're in, the definition of "growth" may vary.  Whether you're seeking more clients for a service, more customers to consume a product, more students to enroll in a school, more attendees at your events, or more donors to support your not-for-profit group, many of the ways of achieving growth are the same and can be customized to your particular needs.
With that in mind, we have listed some well-proven strategies for driving growth:
Seek More Business From Highly Profitable Clients
Find More Customers Like Them
Get Into Educational Marketing
Use Your Website to Capture More Leads
Find Out What Matters to Your Prospects
Eat Your Own Dog Food
Want to learn more about how Spectrum Printing Company's innovative printing and marketing solutions can assist you in growing your business in each of these ways?  Just complete the form nearby or give us a call at (520) 571-1114.