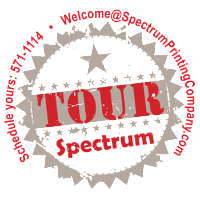 Print Shop Tours
We welcome you to take a personal tour of Spectrum Printing Company in Tucson, Arizona.
What's in it for you?
Experience a unique behind-the-scenes look into our print shop.
Meet some of our splendid Spectrum team members.
Receive valuable tools, such as "The Intelligent Use of Data."
We feed guests, too.
Tours are ideal for:
Individuals
Current Clients
Small Groups
Youth Organizations
Schools
Speaking Engagements
Do you need a guest speaker presentation for your next group meeting or conference? Request a speaker about a printing, mailing, or marketing topic that suits your audience best at any time of the year. We have experience presenting for graphic designers, nonprofit executives, small business owners, and more. Our featured speakers and their main topics of expertise include: