Scratch-Offs Printing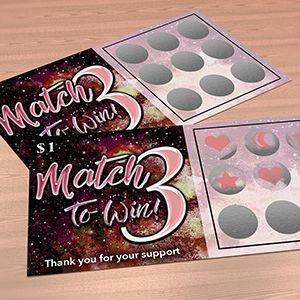 Add interactivity
Scratch-off products are used in many different ways, but the reaction is always the same: your clients will love them. Use scratch-off material on postcards, flyers, save the date cards, gift cards, and discount coupons, or to give away as promotion gifts.
Incorporate into any project
Scratch cards, scratch tickets and other scratch-off products are available on card stock or label stock and can be die cut into custom shapes. Whichever avenue you choose, scratch-offs will prove to be a great add-on feature for your business or organization's marketing collateral.