Handbook Printing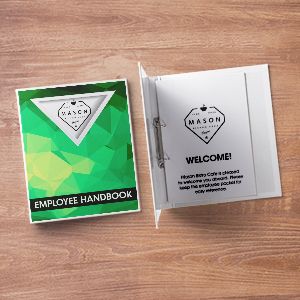 TRAVEL, SAFETY, & COMPANY GUIDES
We can provide you with the step-by-step guide books and handbooks you need to provide consistent, detailed information. From UV coated sheets on weatherproof substrates to simple, thin, text pages with quick-reference index tabs, we have the experience and equipment to produce the guide that will fit your specifications. From travel guides, to safety guides, or company guides, we're here to take care of your business form printing and help you maintain consistency in your field of expertise. We'll help keep your place of business organized with our physical document storage services, and get your products where they need to go with our fulfillment services.
EMPLOYEE, SCHOOL, & VOLUNTEER HANDBOOKS
Be sure your team has an employee handbook nearby to reference when questions arise. In the current fast-paced, competitive workplace, it's imperative to bring employees up to speed as quickly as possible with updated job descriptions, requirements, and policy information. We can help you react to the necessary updates in cost-effective ways. 
Easily Updateable
If only specific portions of your handbook and business forms need to be updated, we will print only the portions that need correction. We have many binding options that will allow your handbooks to be taken apart, updated, and then re-bound. Our graphic design services will ensure that your company logo and colors remain consistent throughout the handbook and across your other business forms. Consider adding color-coded index tabs to your business forms so that information can be referenced as quickly as possible. Handbooks can also be printed for organizations' volunteers and schools to distribute to parents and students.