Flyer Printing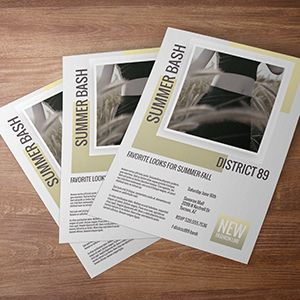 Effective marketing materials
Get your message noticed. Let us help you design and select the right flyer template to begin the process, and take care of all your flyer mailing needs. From design all the way through effectively executing your marketing campaign, we're here to help.
Informative, convenient, and affordable
From announcements, political campaign materials and sales notifications, to advertisements, property listings / portfolios and other marketing tools, we do flyers of all kinds. Whether you need flyers printed in one color or many colors, on text paper or heavy cover stock, to include die cutting or foil stamping, we'll help you get your message noticed.
Types of flyers include:
advertising
business
church
concert
event
full-page
half-page
nonprofit
promotional
real estate