Event Program Printing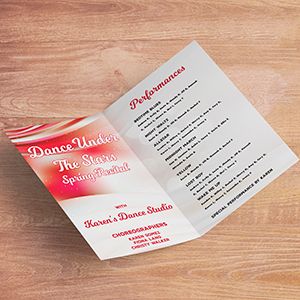 Ready your audience
Having event programs available for audiences of plays, concerts, ceremonies and weddings has long been a best practice. Provide your guests with detailed information on what they can expect throughout the event, recognize sponsors and participants in a meaningful way, and enhance your event marketing.
Customized for your gathering
We can print event programs and wedding programs in simple, folded, one-color sheets, multi-sheet, full-color, stitched booklets, and anything in between. We can also help you combine them with complementing invitations and announcements. Remember that if you are doing a multiple sheet event program, the number of pages must be divisible by four for binding purposes.