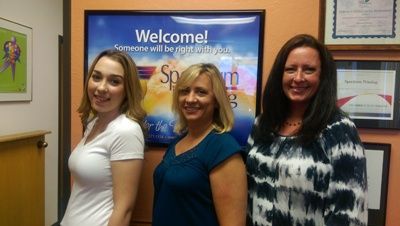 [From left to right: Amber, Lee, and Shelly.]
We are pleased to announce that we now have a third team member who underwent in-depth training to become a "Mailpiece Design Professional" (MDP) certified by the United States Post Office.
Congratulations to our Customer Service Representative, Amber Peterson!
Amber joins our current MDP's, Mail Division Manager, Lee Oliverio, and Mail Division Customer Service Representative, Michelle "Shelly" Lewis.
How do you benefit from working with a certified team of professionals like this?
When our certified CSR's understand the postal standards related to designing your letter and flat mailpieces that are processed on high-speed automation equipment at the Post Office, they can help you maximize cost effectiveness, reduce delays, and increase the market value of your campaign; which saves you time, money, and headaches.
Our certified MDP's can help you with:
• postal addressing standards
• classes of mail and processing categories
• Full Service Intelligent Mail® and parcel barcode formats and print specifications
• designing automation letters and flats (tabbing, polywrap, deflection, flexibility, etc.)
• REPLY MAIL (Business Reply and Courtesy Reply and obtaining the proper barcodes for each)
• address corrections and move updates
Do you have MAILING questions? All bets are on Amber, Lee, and Shelly to "address" them for you. Call us today! (520) 571-1114.