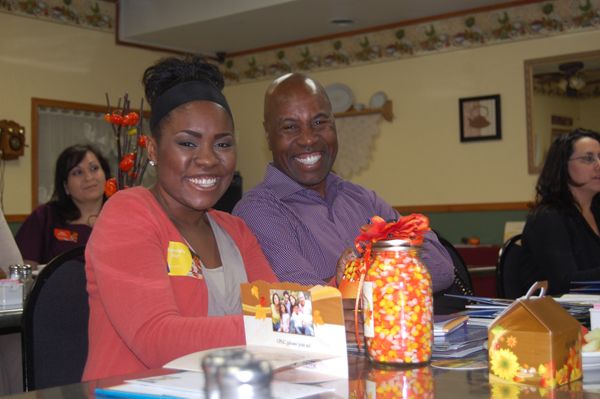 We met some new friends who attended our free Spectrum Signature Seminar, "Fall Harvest: Reaping the Benefits of Increased Fundraising ROI" on October 16, 2013.
Last week Spectrum Printing Company hosted a special presentation by HP Marketing ROI Expert, Ron Sarne, from San Francisco for local Tucson non-profits, schools, and development directors. Presentation topics focused on increasing response rates, increasing donor amounts, re-engaging former donors, and sparking important emotional connections through the use of personalization with variable content data for annual appeals and capital campaigns.
Specific variable data printing strategies, successful case studies, and product samples were featured based on these essential concepts:
• targeted communication
• cost per response
• individualized & relevant content
• CROSS-MEDIA MARKETING using PURLs
• and more
HP's Marketing ROI Expert
Sarne is the Business Development Manager of Hewlett Packard's Graphic Solutions Business. He is a key element in HP's initiative to provide mission-critical business solutions to develop Digital Marketing Programs. With expertise in digital print and targeted marketing, Sarne works closely with print providers to better understand and leverage the values of "1-to-1 Marketing," web-enabled print and integrated campaigns. With over 18 years of experience in the print and digital imaging industry, he has been involved in all aspects of the sales, marketing and business development processes in the industries of graphic communication, Internet/software development and IT consulting services. Based in San Francisco's Bay Area, Sarne has a degree in graphic communication from California Polytechnic State University (Cal Poly) in San Luis Obispo, where he is on the advisory board and also guest lectures.
Spectrum's Print Marketing & Mailing Experts - Several of our team members were on hand for a valuable Q&A session.
Prepress/IT Manager, David Young
Young is proficient with variable data projects and mailing list processing software. You can be assured that when you send files to Spectrum, they will be dealt with by a knowledgeable person who takes pride in his work and is willing to help a client get their project done correctly the first time.
Mail Division Manager, Lee Oliverio
Serving as the liaison between clients and the USPS, Oliverio is Spectrum's resident mailing specialist, certified by the United States Postal Service making sure clients' mail pieces are designed for maximum mailstream efficiency and cost effectiveness, and that it is processed and delivered to the post office in a timely manner.
Graphic Designer/Prepress Technician, Julie Gard
From fundraising postcards to capital campaign brochures, or annual appeal packets, if you have a one-of-a-kind item or a packaging need, Gard can help. Working with your ideas and need specifications, she will create a product that reflects the pride you have in your organization. Do you have a "How do I...?" design question or a layout problem? Julie has a solution.
Production Manager, Ken Huizenga
With over 27 years of experience making sure Spectrum client projects get the best in quality, efficiency, and on-time deliver of products, Huizenga is a trained operator and maintenance technician, and trains all new operators to ensure client projects are handled with care and consistency.
Seminar participants also enjoyed an old-fashioned country-style breakfast buffet by one of Tucson's beloved breakfast places, The Hungry Fox Restaurant and Country Store.
Ready for your next donor or enrollment campaign? We'd love the opportunity to brainstorm ideas about the most effective FUNDRAISING MATERIALS and capital campaign methods that will help you deliver results. CONTACT US at Spectrum Printing Company: (520) 571-1114. Consider the Possibilities.