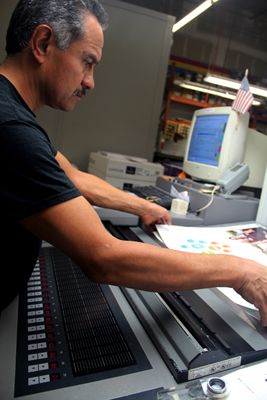 Start the presses! Tucson's favorite printing company is anxious to print and mail out our newly reinstated bi-monthly company newsletter, The Complete Spectrum.
Take a sneak peek at some content soon to be published in this valuable print marketing and mailing publication filled with useful tidbits and relevant company news such as:
• Start a Cross-Media Marketing Campaign in 5 Steps
• Lee Knows Mail - Your Most Pressing Mail Questions Answered
• A Fresh Perspective - Marketing Ideas You Can Use Now
• Inside PrePress & Production - Design & Printing Strategies
• Behind the Scenes - PrePress, Printing, Bindery, & Mailing
In Behind the Scenes, we take a closer look into the realm of prepress, printing, bindery, and mailing. Our July/August edition features George Villanueva, Lead Press Operator, "When clients visit to see a print proof, I calm them when they might be worried how it will look. This is all part of the process when color gets together and things happen on the press. There's nothing to worry about - it will be nominal. I tell them, 'I will meet your expectations.' I may be mechanically inclined, but I have an eye for quality color."
Sign-up to receive a FREE subscription to The Complete Spectrum.