Michele Matyjasik, Scheduler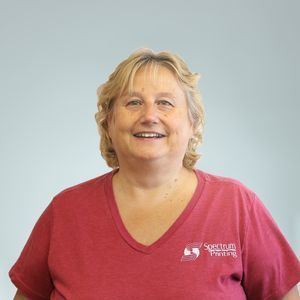 I'm responsible for making sure your jobs are completed on time.
I have been in the printing industry for over 35 years, working in every department from the front office to shipping. I got my start in printing by attending a vocational high school and taking printing classes for four years. I graduated with a printing diploma and have been working in the industry since my senior year of high school.
Since moving to Tucson in 1986, Spectrum Printing has been my professional home. I started as the receptionist, moved to customer service, estimating and order writing, then landed in my role as the scheduler. Since I have worked in every department, I have a sense of the workflow and in the order in which each process must be completed so your projects are completed on time and are of only the best quality.
Along with everyone else at Spectrum, I also help wherever I'm needed to ensure we meet and exceed our clients' expectations with every product we produce.