Rebecca Arnett, Digital Press Operator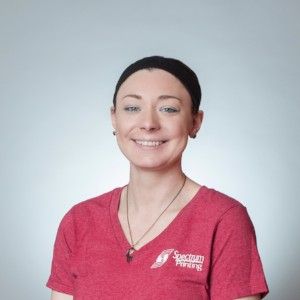 My first job, fresh out of design school, was as an intern in Spectrum's Prepress Department. While I enjoyed that environment, I quickly discovered a real affinity for operating print production equipment. I was promoted to the Digital Print Department and learned to master the equipment there. Most recently, I have been entrusted to operate our unique SPOT machine – the equipment by which we embellish some of our printing with spot gloss finishes and/or foil. This enables me to combine my artistic eye with the unique equipment to create outstanding finished pieces for our clients. 
Not that I have that much as a wife and a mother of a growing young son, I spend my free time drawing and painting. Some of my work is hanging on the walls here at the shop.