George Villanueva, Lead Offset Press Operator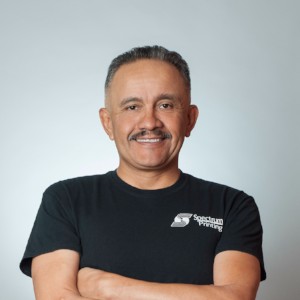 Around Spectrum Printing, everybody knows me as "Lil' George." I've been in the printing industry for the past 35 years and can literally tell you that I have seen it all! I enjoy working here at Spectrum as the Lead Pressman, and I'd love to give you a tour of our shop and help you with your special project. I enjoy taking on challenging customer jobs that allow me to print one- or multiple-color pieces, detailed posters, intricate special effects and meet tight deadlines.
I have mastered color theory management, solving press problems, quality control and press training. I've been a part of Spectrum since 1996, and I've found that this company is one of the best out there. I am professionally challenged each and every day, which makes my job here at Spectrum very cool!